You are in safe hands
All our apartments come with various services that we feel are essential to offer you immediate convenience and comfort. Arriving in a new city and feeling instantly at home within your fully furnished apartment is what we care about, and our complimentary amenities strive to give you this feeling.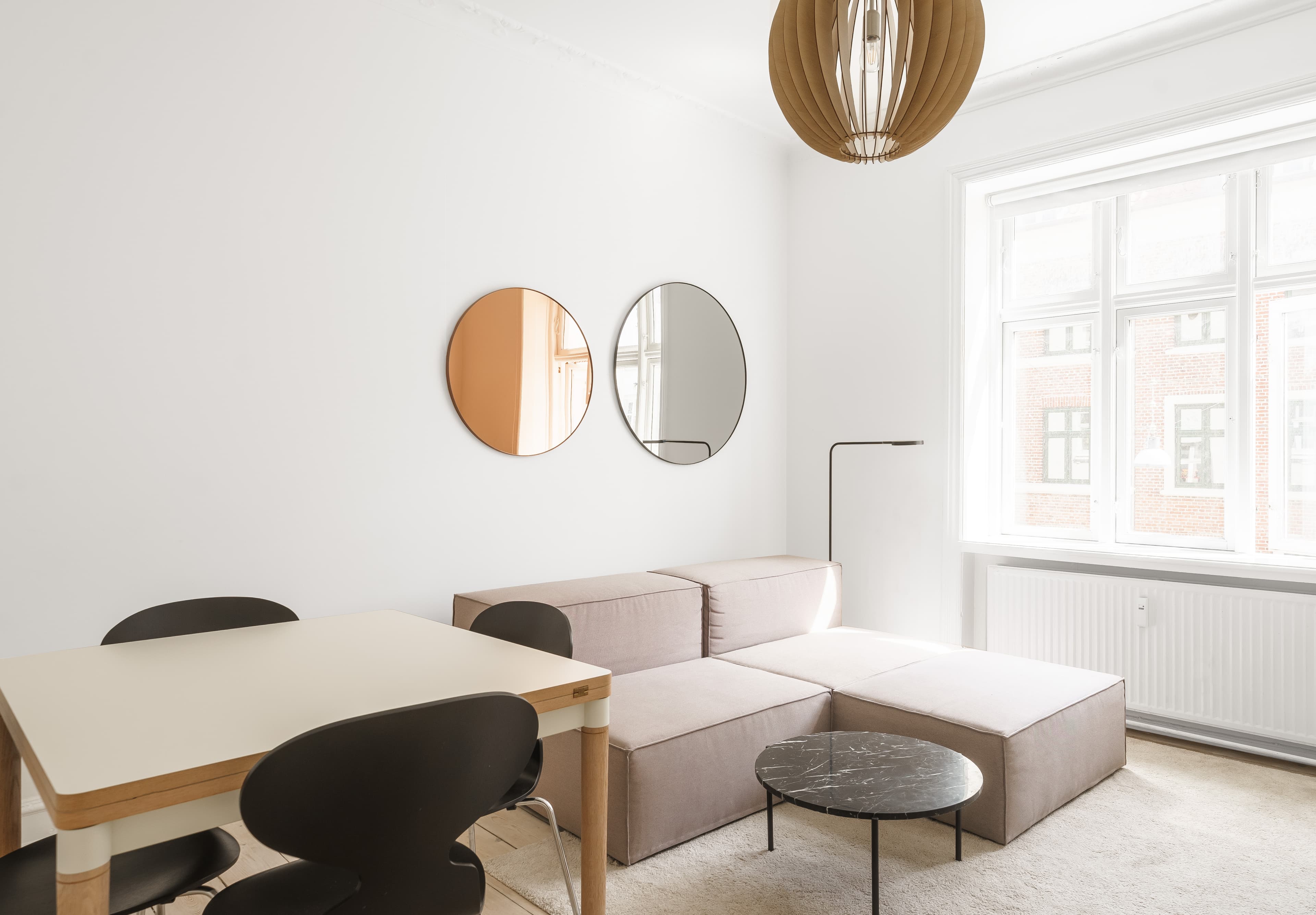 OUR SOLUTIONS
Personalised solutions to fulfil your housing needs
OUR SERVICES
We are all about providing a seamless experience, that's why we offer all these complimentary services
Cleaning
Ongoing & End-cleaning
Electronics
Media & Household
Fully Furnished
With high quality design
Wi-Fi
As speedy as possible
Laundry
In the apartment or building
24H Assistance
In case you need us
Extended maintenance
We got you covered
ADDITIONAL SERVICES
Some need a bit of extra
Additional cleaning
Monthly Cleaning is included in your rental, but we offer Clients and Residents the option to purchase weekly or Bi-weekly cleaning service. Prices vary with the size of your apartment. Actual charges for every apartment can be seen in the 'Apartments' list. Prices are VAT excluded.
Storage service
8 cubic metres of clean, safe, and dry storage of your personal belongings. Our service team will coordinate the storage room handover with you directly.
Linen service
Change, wash and press means fresh, crisp linen and towels at all times. Linen service can be purchased as a weekly, bi-weekly or monthly event.
OUR CONCEPT
What is a Movinn apartment
A regular, unfurnished and unserviced apartment can cost you a lot of money in upfront expenses. Other than a substantial financial commitment, you will most likely also spend a lot of time in the process. Our Movinn apartments offer you a convenient solution including a combination of different amenities.
Design furniture and equipment
No
Yes
Wi-Fi and TV included
No
Yes
Security deposit and prepaid rent (in months of rent)
4-6 Months
0-2 Months
Termination notice
3 months at the end of a month
1 month ongoing
Refurbished liability (fresh paint, sanding floors, etc.)
Yes
No
24 Hour assistance, utility management & call outs
No
Yes
OUR BENEFITS
Why a Movinn apartment is the smartest choice
Cost efficient
We are cheaper than hotels, but we offer a similar convenience, service and flexibility. Plus, with Movinn you can expect lower upfront expenses compared to regular apartment rentals, though with a higher level of service and support.
Home away from home
Enjoy more space, equipped kitchens, and other amenities in our fully furnished and serviced Movinn apartments. Have friends over, cook your own dinner or simply enjoy a proper temporary home that is all yours.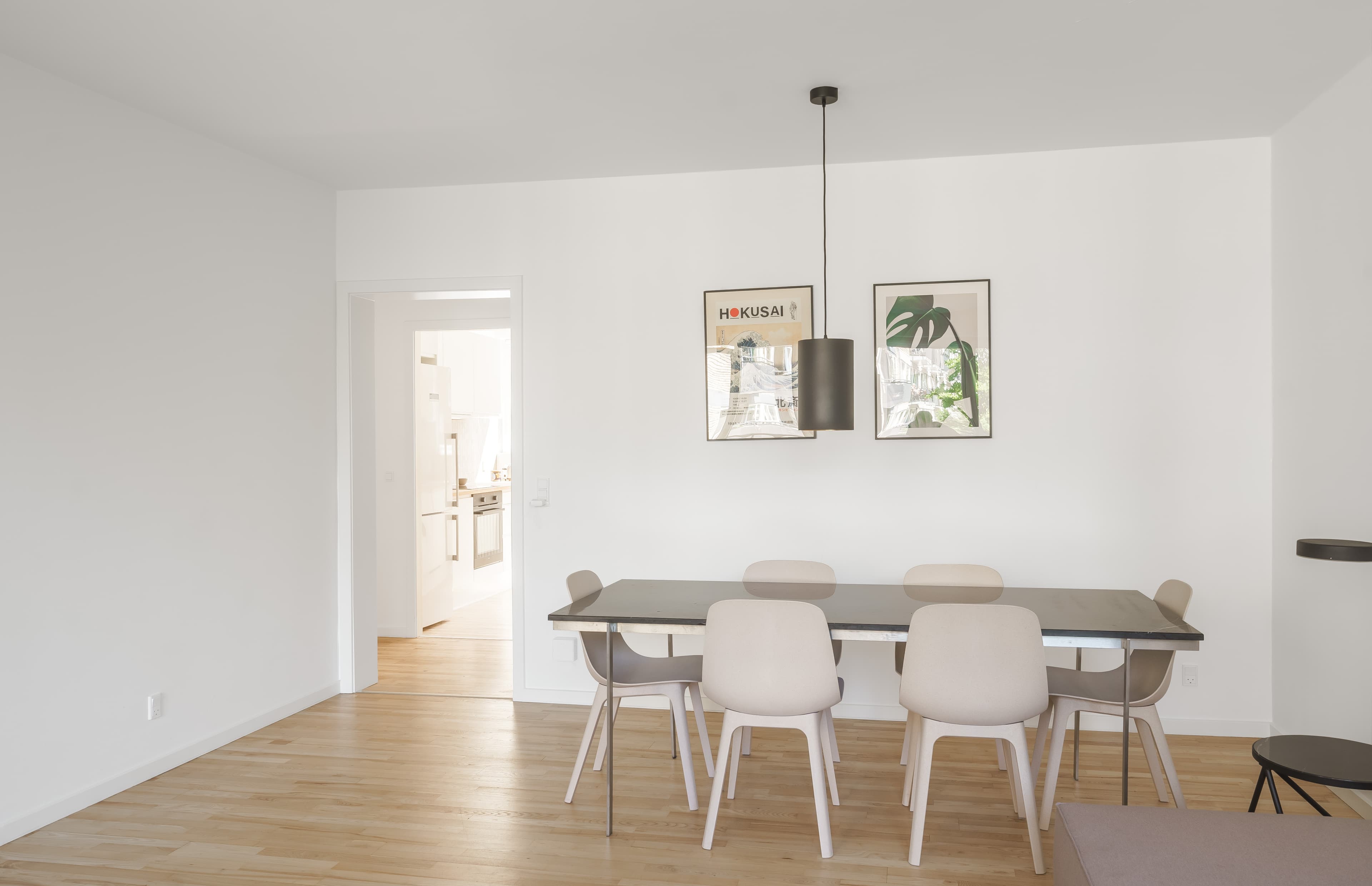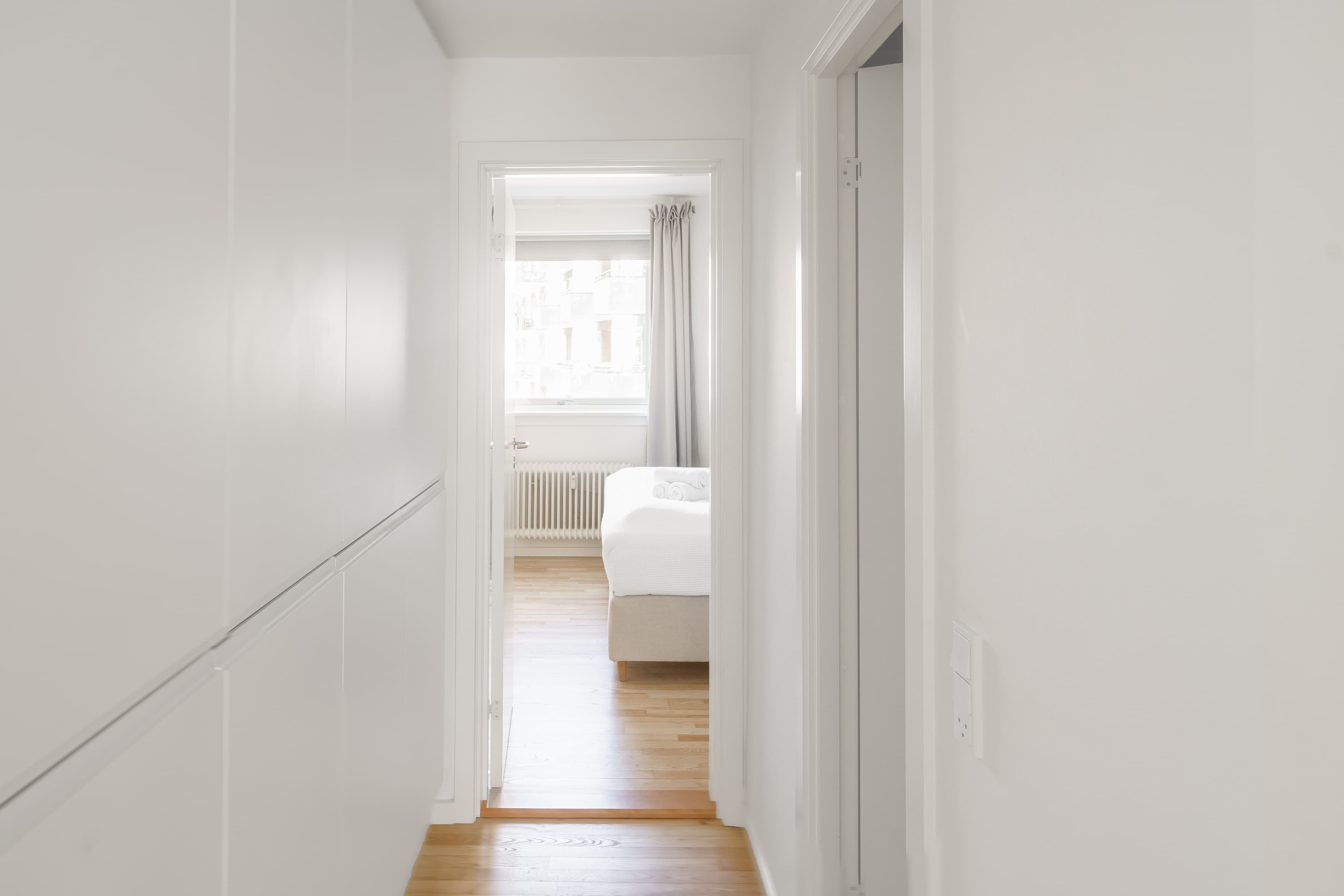 Landing pad / starter home
With low entry barriers, move in to a plug-and-play apartment from the minute you arrive: fully stocked with everything you might need from wi-fi and linen to coffee cups. Enjoy a stress-free landing pad to give you all the time you need to search for a permanent home.
Temporary accommodation
Are you in the city on temporary assignment - say 1, 4, 6 or 9 months? Then move in, enjoy your time here and leave the keys behind you once your assignment is up. No need to buy any furniture, refurbish apartments or stress about long termination notices. Easy, flexible and with a high ongoing service level.
OUR ADD-ON PACKAGES
Make your apartment feel even more like home
All our apartments come furnished with the same recognizable and iconic interior design. Every apartment also has the same standards of electronics and equipment. For some, our standard decor and equipment is more than enough, whilst others have special requests. This is why Movinn offers different types of equipment rentals, to ensure that you feel right at home after Movinn in.
Baby kit
Are you bringing a young family member while Movinn in? We can provide larger items for the little one to make life a little easier while Movinn. This package includes a cot, matress and sheets, a baby highchair and a safety gate for 350 Dkk/month (excl. VAT)
Workstation kit
Will you be needing to work from home? We can provide you with a workstation kit to make your home office environment as comfy as possible and perfect for any online meetings. This package includes a desk, lamp and a desk chair for 400 Dkk/month (excl. VAT)
Bike kit
Getting around with public transportation can sometimes be a bit tidious. You'll find a lot of cyclists in the cities we offer apartments in. Rent a bike from us and explore the city on your own pace. This package includes a bike (men's or women's) and a bike lock for 500 Dkk/month (excl. VAT)
Guest bed kit
Having friends or family visiting? we can provide a few items that will make their stay comfortable too. This package includes an inflatible bed, two pillow, 2 duvets and all the neccesary linen for 350 Dkk/month (excl. VAT)
Cosy-it-up kit
Our apartments are minimalistically decorated with quality design throughout. But to create a homely feel, you might need a bit more cosiness. This package includes two cushions, a plaid/blanket, a vase and two bowls for 200 Dkk/month (excl. VAT)
Asian cooking kit
Many of our Residents need cooking items that are not part of the standard issue in our apartments. This package includes a blender, a pressure cooker, a rice cooker and a wok pan for 400 Dkk/month (excl. VAT)
OUR PARTNERS
Furnished with high quality Danish design made to last